THE BRIGHT SIDE OF DEATH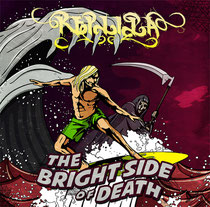 REPLICA  (at) visualizes heavy music, which moves flowing,gives you creeps, initiates thinking processes, transfers
dark impulses and sets new standards. Outspacing their competitors within the Austrian Underground-Metal- Scene, these youngsters successfully managed to become more than a respective representative of the thrash metal genre in their local area and to give thrash an innovative definition by using the intensity of metalcore and the open-minded feeling for progressive dictions.
After several, prosperously passed band-contests, a lot of unforgettable national and international live shows, as well as the release of their vigorous 5-track-demo in 2005 - entitled "Metanoia" – the Upper Austrian quartet reached the dream, other bands still longing for: Having a big fan-base!
Due to their musical competence and their technical sensitiveness, REPLICA create a harsh-baked sound with 100 % of recognition value, whereat the band found the ideal recipe: The subtle, flowing connection between metallic nostalgia and modernity.
REPLICA, who are well known in and beyond the Austrian borders, are about to present their brand new third album "THE BRIGHT SIDE OF DEATH" on JAN 12th, produced by Mario Jezik at Noiseheadstudios Austria.
The Album "THE BRIGHT SIDE OF DEATH" prooves the Band's progression, which can be clearly heard in their message and improved style - this album exceeds all expectations from REPLICA, including a brand new stage-show with choreography, humour and numerous effects.
The exceptional artwork comes from the pen of Eclipse Media.

The Band shared the stage with bands such as:
Heaven Shall Burn, Sepultura, As I lay Dying, Neaera, Cataract, One Man Army and the Undead Quartet, The Sorrow, Debauchery, Ektomorf, Korzus, Tito & Tarantula, amongst many others.

There have been lots of tours through Austria, Germany, Italia, Hungary plus in 2011 the band got the amazing chance to follow Ektomorf on their "Road to Redemption Tour" across Europe.
The quality and the high frequency on each show are the reasons for companies like TAMA, IBANEZ or AGNER to support the band with special endorsement deals.